Romania is a beautiful country with everything from fairytale castles, to jaw-dropping nature, and historical architecture. This travel guide will focus on Bucharest and Transylvania.
Caru'cu Bere
Bucharest is such a beautiful city with incredible architecture at every turn and an unbelievable mix of buildings from across many eras. It's full of funky bars including Caru'cu Bere, Bucharest oldest brewery with stunning interior design and authentic food. There's also Lipscani which is filled with loads of great nightlife and surrounded by medieval streets.
Macca Villacrosse Passage
Macca Villacrosse Passage is a picturesque passageway right in the center of the old town with a mix of bars, cafes, and lots of places to enjoy shisha. Then there's the palace of parliament, it's the world's heaviest building and actually has eight stories hidden underground. To this day, it's still not complete but there are currently 400 rooms in use there.
Sighisoara
Bucharest culture is extremely diverse with everything from jaw-dropping facades to unique street art. If you are looking for the older town appeal, then you should check out Sighisoara. It's full of beautiful cobbled streets with extremely colorful houses around every corner. Walking through this town feels like you have stepped right into a fairy tale. It's one of the best-preserved medieval towns in Europe and even has a spot on the UNESCO World Heritage List. Sighisoara was also the birthplace of Vlad the Impaler who was the original inspiration for the tales of Dracula. You can go and see where he was born to learn more about him and the life he led.
Brasov
Brasov is the capital of Transylvania. Here you can visit the Piata Sfatului, it's the heart of Brasov medieval center and a great place to eat out. Head here in the morning and you'll practically have the whole place to yourself. But by night it's an entirely different story as the square comes alive with bustling crowds and culture all around. You will also find one of the narrowest streets in the world here, it's called Strada Sfornii. Then there's the black church. Although not black in color, it's the largest gothic church in Eastern Europe.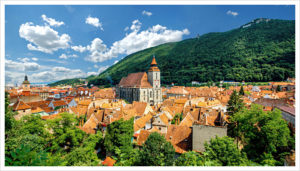 Bear Watching
From Brasov, you can leave for one of Romania's best experiences – bear watching in the wild. You will sit in a bear hide where you can watch these incredible animals from a safe but near enough distance.
Libearty Bear Sanctuary
If seeing animals in the wild isn't for you, they also have Libearty Sanctuary which is a place for rescued bears that have often come from the circus or being used for entertainment. They can no longer be released back into the wild and Liberty Bear Sanctuary gives them a really happy life where they are taken care of.
Bran Castle
The Bran Castle is where The Legend of Dracula began. It sits on top of a 200-foot cliff in the middle of Transylvania. Vlad the Impaler is said to have made this castle his home and walking through the narrow corridors you can really feel the history within these walls.
Peles Castle
There's also Peles Castle, a fairytale-like Romanian palace that's one of the most intriguing castles in Europe. It's the former home of the Romanian royal family and is surrounded by breathtaking mountains and lush green hills. It's definitely worth visiting with each room decorated in a completely different style or theme.
Transfagarasan Road
If you are going to Transylvania, you have to check out the Transfiguration Road. It starts in Brasov and rises to a height of 2,134 meters. Twisting its way through the Romanian countryside, it's full of sharp open turns and is one of the most exciting roads to drive along with beautiful natural surroundings. On this road, you can also travel to Balea Lake. Nestled in the mountains, you'll find this stunning glacial lake. It's a great place to stop and take in the views and you can even head to the restaurant for a nice warm soup as well.
Viscri
As far as authentic old towns go, we have already mentioned Sighisoara, but if you have enough time to explore further, we recommend checking out the charming village of Viscri. If you want to get a feel for rural Romania, this is the place to see. With unpaved roads, historic houses, and local animals roaming freely, horse and carts are still a standard form of transport and many traditional jobs like blacksmithing are still an everyday thing here. It really is like stepping back in time.